February 24, 2023: Wine Tasting
Our 2023 event was a success! We sincerely thank McDuff's in Ramsey and all our donors and volunteers for a great turnout and great time!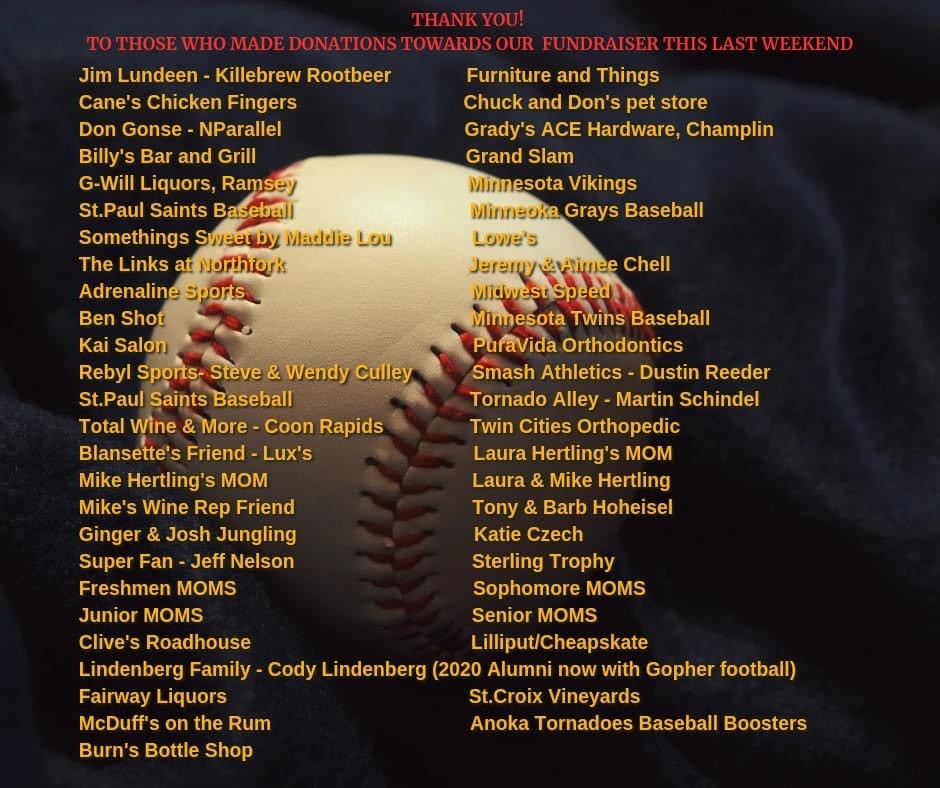 March 5, 2023: Chipotle Fundraiser
We asked if you were feeling hungry… and you were! We raised over $650 during our Chipotle fundraiser this year. We appreciate the partnership of the Coon Rapids Riverdale Chipotle and thank the community for showing your support!!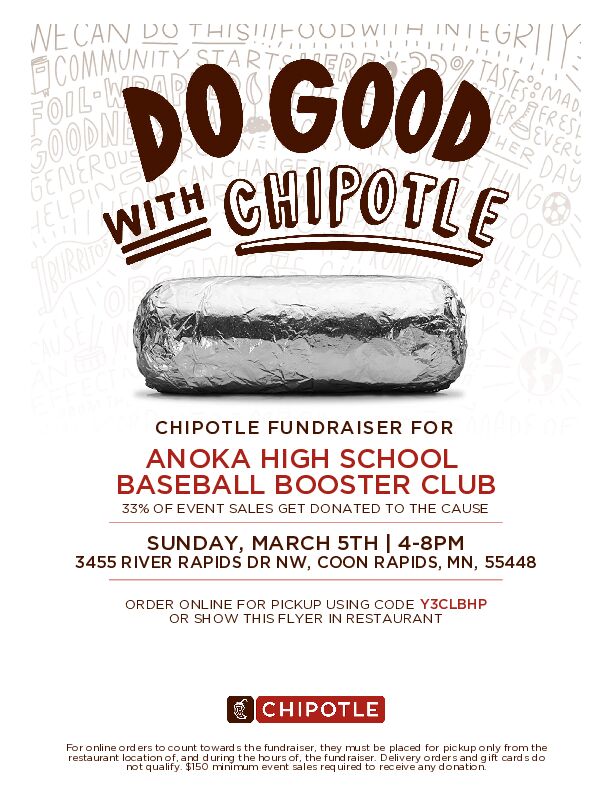 April 8, 2023: Cub Foods Bagging Event
Everyone needs groceries, right? How about shopping at the Riverdale Cub on Saturday, April 8, and letting one of our Anoka baseball players bag them for you!? We will be there from 10:00 am to 6:00 pm and look forward to giving you a hand with your shopping experience!
May 12, 2023: Youth Night at Castle Field
Youth Night is an opportunity for the youth ARAA baseball teams and their families to cheer on our Anoka Baseball Varsity team at a home game at Castle Field. The Anoka Baseball Boosters will provide fun activities for the whole family to participate in throughout the night!

May 19, 2023: Anoka Senior Night
Join us for Senior Night where we celebrate our graduating Anoka baseball players! Before the scheduled home game, we will announce all of our senior players at home plate escorted by their parents or loved ones. They will receive a personalized gift provided by the Anoka Baseball Boosters. After the game we will continue the celebration with picture poster boards of our graduating players and food for everyone to enjoy!
June 8, 2023: End-of-Season Banquet
Our end-of-year banquet is a celebration of the season, complete with awards, games and food. This year's banquet will be on June 8 at 6:00 pm at Northfork. Click here for more information and to register!