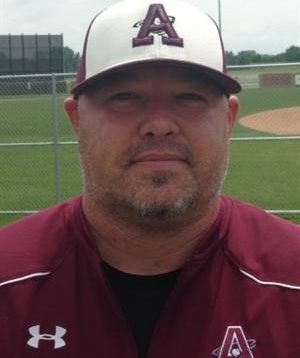 Shannon Blansette – Head Coach, Varsity
My name is Shannon Blansette and I am entering my 10th season as Head Coach at Anoka High School. Prior to being at Anoka, I was the head coach at Park Center, an assistant coach at St. Anthony Village, the head coach at Northwood HS in Irvine, CA, hitting coach for Irvine Valley College and both an assistant and Head Coach at Concordia University in Southern California.
A native of the Fox Valley in Wisconsin, I was a three-year varsity starter and twice an all-conference player. Collegiately, I was a four-year starter at Carthage College and played in three NCAA DIII College World Series', never finishing lower than fourth in the nation. I was a two-time all conference player and a three-time NCAA all-Region player.
I currently teach in the Social Studies department at Anoka HS, in addition to being the Section 7AAAA coaches representative and the Chair of the North Metro Selection Committee for the High School All Star Series.
I moved to Ramsey in 2008 from Huntington Beach, CA where I live with my wife, Aimee, and my two daughters, Hazel (9th grade) and Charlotte (6th grade).
Don Gawreluk – Assistant Coach, Varsity
My name is Don Gawreluk (Like Mauer and Luck with a G on the front.) I live in Anoka, teach 5th grade at Franklin Elementary and my role at Anoka is to assist with the varsity and work with catchers. I work with as many as I can, though, in just about any way that I can help regardless of defensive position. My wife and I have 3 boys, Joe (an engineer at John Deere in Waterloo, IA), Jake (who was a baseball captain in 2020 – the Covid year – and Rob, who is a sophomore at AHS.)
My coaching career started at St. Cloud Cathedral helping their program while I was in college, but my first real high school varsity coaching experience was at my alma mater, Coon Rapids HS, where we won the State Title in my first year.  That was pretty cool! I stayed with them one more year, moved over and spent 5 years coaching at Champlin Park and then joined Anoka's high school staff coaching the JV and assisting with the varsity for 2 years in the late '90's.  Andover High School hired me as their first head coach in 2001 and I stayed there for 15 years.  We only played 9th and 10th graders on our squad for the first couple of years and we just wracked up a lot of losses! However, I was able to win some big games, including defeating Coon Rapids in our inaugural year to keep them from winning a Conference Title followed in year 2 by being the #16 seed in section playoffs and defeating the state's #1 team in Stillwater. That win helped change the state's playoff format from single elimination to double elimination. I helped 27 players play college baseball with 4 playing at the Division 1 level. 
In 2018, I rejoined Anoka High School's baseball program and started coaching the summer Legion team in 2019, where we made the State Legion Tournament in our first year finishing with a great record and a top 5 state finish. Overall, from coaching as a head high school coach, JV coach, Town Ball and Summer Legion coach, I have a 494-448 record overall and have assisted with 1 state championship, 5 Conference Championships and 2 Region Championships.
As a player, I graduated from Coon Rapids HS where I was an all-conference and all-region player who had to work through passing by 6 other third basemen to earn a starting role as a senior. We had lots of competition at CRHS with over 100 players coming out each year in grades 10-12. After graduation, I was able to play a few years at St. Cloud State, but needed to focus on my degree after I saw the "writing on the wall" so that I could graduate on time. My career continued, though, for 15 more years as a player/coach of the Coon Rapids Mavericks town ball team. 
Currently, I am the State's Assistant Executive Director of the Minnesota State HS Baseball Coaches Association, run the Twins Community Fund All Star Series for the top MN seniors, lead the state's rankings of all 4 classes, help coordinate the Prep Championship Series at Target Field, host the MSHSBCA Dugout Chatter podcast, serve on the Awards Committee and am the secretary of the organization. I was also the president in 2015 – 2017. In 2021, I was named the Dick Siebert Award winner by the MSHSBCA for my dedication to the promotion of baseball in Minnesota.
For the National High School Baseball Coaches Association, I've served on the Rules Committee. Now, I work on the Baseball America National Rankings Committee where I rank Region 6 (ND, SD, Iowa, NE, KS, MN and MO) every other week and help with the nation's Top 35 rankings.
I am proud to be on the staff at Anoka High School. I also enjoy serving the game that has given me so much in terms of opportunity and friendships. At Anoka, we work hard, demand a lot and care deeply about our players!